A new life for Casper Slinger
Casper Slinger's existence changed radically. "My father started a completely new life – more of a family life. Now he could finally enjoy his wife and children. He became a real family man. He moved often. Sometimes he lived in Aerdenhout (near Haarlem), then he lived in France again [for example, Monaco and Cannes] on the Mediterranean Sea.
Casper Slinger was a born entrepreneur. "My father also launched the company DS1, selling devices for insecticides and perfumes for in house. After a while he sold the company again. Furthermore, he traded in real-estate. He was also very active on the stock-exchange. He remained an entrepreneur in heart and soul".
Finally, Casper Slinger settled on the coast in the South of France permanently. "He had many boats and bought a few houses with a view on the sea". He did not maintain any contact with his old colleagues in the music business. Not even with John Vis, who later lived in the South of France too. "They never talked to each other", according to Ariane.
"Jaap Felleman did visit my parents in the South of France with his family. That was around 1980, when my father was 57, so he had kept in contact. John Vis not at all".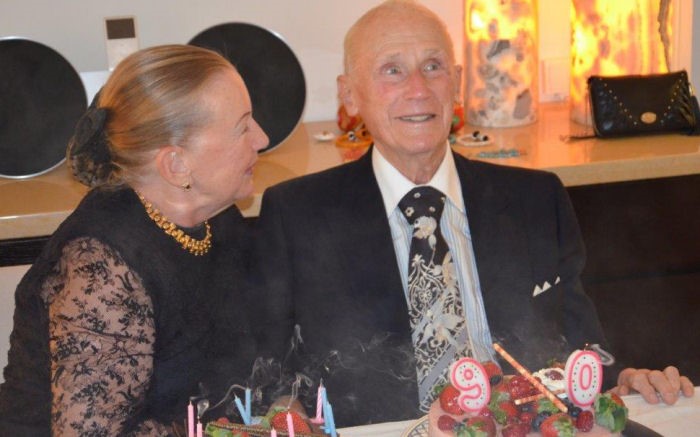 Adriana and Casper Dingeman Slinger at his ninetieth birthday.
His love for music remained unspoilt. "My father continually listened to music. He also had the best music devices in the house". But his records did not have eternal life. "Of his magnificent and large vinyl record collection nothing is left, unfortunately. Due to all the times he moved houses the records warped and he had to say goodbye to them".
Casper Slinger could not refrain from keeping abreast with the developments in the music business. "He kept following the hit parade. At the age of 92 he continuously played the music channels with videos at home. Besides music, my mother and the sea were the loves of his life. He never left her side". The obituary in the newspaper stated that they had shared 62 years of their lives together, through thick and thin.
The Slinger family is proud that the record factory that was built by Casper in the early sixties still exists. There is a revival of music on vinyl. Even some old presses are still used in 2016, according to Ariane. The homepage of the independent successor of Artone, states: "With 33 presses, Record Industry is one of the largest vinyl pressing plants in the world. Our production capacity is 40.000 to 50.000 records per day".
Katy Perry
In conclusion, proof of Casper Slinger's 'eternal youth'. Not long ago Adriana and Casper Slinger, having passed 90 years of age, were walking along the Croisette in the Southern French bathing resort Cannes. A camera team of the French television (France 3) asked passers-by about their favourite artists. They stopped the married couple Slinger too. Casper wore, as usual during the last years of his life, a white suit.
What was his favourite artist?
It is unknown what the interviewer of the French television expected, Maurice Chevalier, Charles Trenet, Charles Aznavour, Edith Piaf, Adamo, Gilbert Bécaud maybe?
The answer of the man with the young heart was more than surprising. His favourite artist, he confessed, was Katy Perry, performer of songs like 'I kissed a girl', Hot 'n' Cold', 'California girls' and 'Dark Horse'. [Youtube – Katy Perry, I kissed a girl, 2008]
With street interviews not all is broadcasted. Only what is important or interesting.
Ariane Slinger: "That way my father appeared, at the end of his life, on the French television!"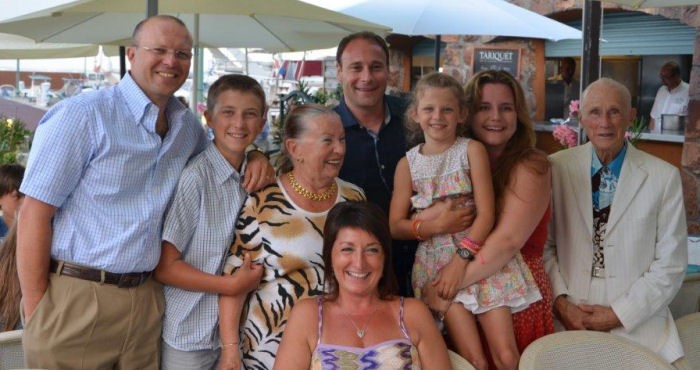 Family photograph 2013, daughter Ariane Slinger below middle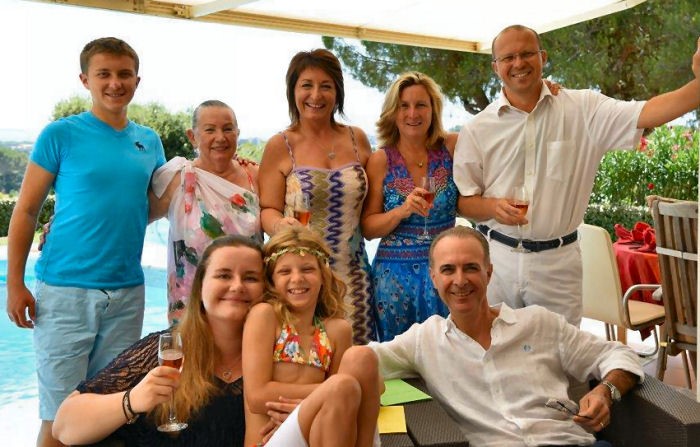 Family photograph 2015, daughter Alexandra second from the right in blue dress
Clips
* Dave Brubeck, Take Five, 1961
* Ray Charles, I can't stop loving you, uit 1962
* Newbeats, Bread and Butter, 1964
* Stevie Wonder, Blowing in the wind, 1966
* Scott McKenzie, San Francisco, 1967
* Johnny & Rijk, Bostella, 1967
* Simon & Garfunkel, The Boxer, 1982
* Crisis Suez-kanaal in 1956, BBC documentaire, 2006
* Katy Perry, I kissed a girl, 2008
Literature
Hemmy J.S. Wapperom, about Pete Felleman end Reprise, Billboard, 4 December 1961
'Columbia sets Benelux deal', Billboard, 29 December 1962
Part of publication of CBS International, Billboard, 16 March 1963
André de Vekey, 'It's official: CBS-Oriole deal', Billboard, 3 October 1964
Cees Mentink, 'Artone-directeur John James Vis: De grootste boer kan tegenwoordig een plaat maken', Kink, 8 april 1967
Clive Davis, Clive. Inside the record business, New York 1975
Michel Terstegen, 'Het was eigenlijk waanzinning. Exclusief interview met John J. Vis over Artone in de jaren 50 en 60', Warm Sounds, March 2001
Harry Knipschild, 'Vriendinnen voor het leven dankzij Artone', on this website, 16 April 2010
Harry Knipschild, 'Gijs Leijenaar en het persen van grammofoonplaten', website Harry Knipschild, 1 November 2012.
Gerlof Leistra, 'Casper Slinger 1923-2016, Ondernemer met passie voor jazz', Elsevier, 22 October 2016