Memories about Casper Slinger and Artone (1956-1970)
By Harry Knipschild (historian) and his daughter Ariane Slinger
More than half a century has already passed since I, after having obtained a Bachelor's degree in Mathematics in Utrecht, chose to follow a different path in life. In the autumn of 1965 I got a permanent job with a music company. It was Artone, located at Kruisstraat 8-10 in Haarlem. After working there for two months I subsequently switched to competitor Negram-Delta, located on the Zijweg of the same city.
Artone was founded nine years earlier by the brothers Casper and Willem Slinger, together with John Vis. The two brothers were the owners. I did not get to talk to them at all in the eight weeks that I worked there. That right was only reserved to a few key employees. The distance to the upper management seemed to be very important. The Slinger brothers were referred to as 'Mr W.' and 'Mr C.D.' in hallway chat. What they were doing in another part in the building, where the Albert Heijn supermarket is now located, was completely unknown to me. It seemed that John Vis was the one who dealt with most of the business-related matters.
Casper Slinger around 1963
It took years after I had left to get to know more about Artone. John Vis [1929-2015] sometimes talked about his past in interviews with magazines. I was able to obtain more information when I asked former employees of Artone, such as Gijs Leijenaar and André Ceelen, to have their say for this website. [Harry Knipschild – Gijs Leijenaar en het persen van grammofoonplaten]
Especially Leijenaar held strong views about the upper management of the record company. One of the things I wrote on the website as a result of our conversation was that: "In the most articles about Artone, John Vis is usually portrayed as the great man that enabled the company to grow. The role of the Slinger brothers is usually marginalised. That was also my impression and that's how I have always expressed it".
Leijenaar completely disagreed with that opinion. "John Vis makes himself seem far too important in your previous article. The way in which he portrays himself is not how he actually was – on the contrary, a somewhat timid man, who did not like to present himself to the outside world. That he was the man that made Artone so important is completely untrue.
I could be mistaken, but in the article he seems to be the man he wanted to be, but never became. On the contrary when he was leading the company, after the Slinger brothers had gone, it was actually pretty much done with the salesman," according to Leijenaar. [Wikipedia.org – John J. Vis]
He especially thought very highly of 'Mr C.D' Slinger who had helped Gijs excellently when he had to leave the company. When Leijenaar learnt that his former director had died on 18 September 2016, he immediately described him admiringly with the words 'hard, but fair'. "Mother Slinger should be very proud of C.D., the motor around which everything revolved. When you consider all the things that man set in motion and how many people he provided with a living…"
Death of Casper Slinger (18 September 2016)
The family of Casper Dingeman Slinger [his full name] also responded to his death. On 24 September they placed an obituary in the Dutch newspaper 'De Telegraaf' with the words: "At the end of the 50s Casper Slinger was the founder of the record company Artone CBS in Haarlem, together with his brother Willem. [He was] a great entrepreneur with a heart for his company and employees". [Elsevier Weekblad – Casper Slinger: ondernemer met passie voor jazz]
On 11 October his daughter Ariane [53] contacted me from Geneva to talk about her father's past. "There is much information that you do not have at your disposal yet and his life story is very interesting", she told me by email. Shortly after that she sent me a lot of information and answers to the questions I asked her. I talked to her by telephone on 18 October. Her mother Adriana Maria Slinger-Van Mierlo [83] attended the conversation too.
In the last years of his life – he passed away at 92 – Casper Slinger was well informed on the developments in the music scene [and also on the articles about Artone that I had written on the internet]. He did not want to respond to it himself though. He left that to his family, 'for after he was gone'. On behalf of the family, daughter Ariane shared some interesting facts with me.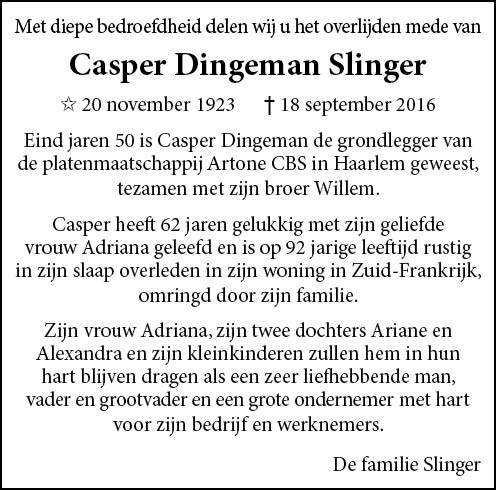 Background of the Slinger family
The Slinger family originated from the provinces of South Holland and North Brabant ('not from Belgium!"). Her grandfather Dingeman Slinger was born in a small village in the south of Rotterdam. In 1929 Slinger senior founded the oil company Trio. "He imported cans of oil from Pennsylvania that he bought from a certain mister Drake of the Pennsylvania Oil Company, the first oil producer in America", this became evident from notes that he recorded in a book.
Several publications state that Edwin Drake [1819-1880] extracted oil with a steam engine in Pennsylvania in 1859 [at Titusville]. Titusville became a boomtown, a similar situation as the gold rush several years earlier when large numbers of fortune-hunters migrated to California. In 1891 Pennsylvania produced 31 million barrels, 58 percent of the total American oil production that year.
Ariane Slinger: "My grandfather lived in a very nice house in Heemstede, he really was successful".
The war years did not go by unnoticed, Gerlof Leistra recently wrote in Elsevier. "At the beginning of the war Casper Slinger was sent to a labour camp in Berlin. He jumped from the train, hid at a German woman's house and escaped to Russia. He informed the English troops through the radio".
Trade was in the family's blood. "My father often went to Spain to exchange oil for oranges, bananas and tangerines, because there was not much to eat in the Netherlands after the war".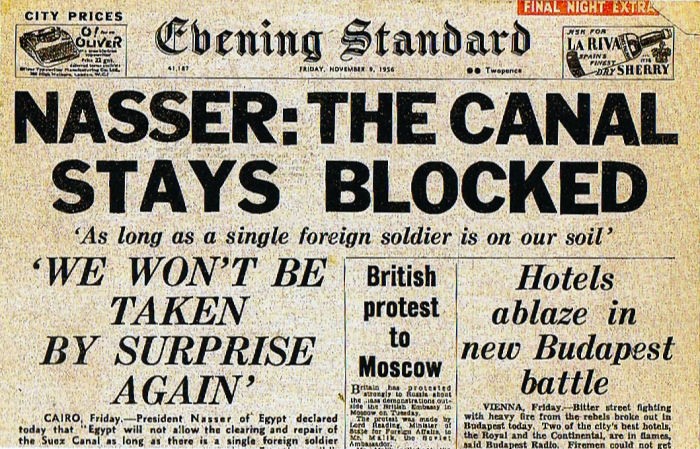 The Suez crisis in the English press
According to his granddaughter, Dingeman Slinger became director of BP (British Petroleum) Benelux at a later stage. In that capacity he got his sons Willem and his brother Casper, who was ten years younger (born 20 November 1923, Schoten near Haarlem), to be part of the business. The two boys had had a good education. Following the advice of Slinger senior, Willem had studied law and Casper had finished the school for pharmacists in Utrecht after finishing secondary school.
Ariane Slinger: "Casper and Willem were successful in their business – they lived in Aerdenhout and Bloemendaal. At the end of 1956 the two brothers succeeded in making a huge profit because of the Suez crisis. They had kept a vast oil reserve in the Netherlands. Suddenly the price of this oil increased tremendously because of the transport problems to Europe. That lasted from the end of 1956 to the beginning of 1957. Suddenly they became very rich".
Apparently the two [within Trio] also had activities outside of BP. A question about that topic could not be answered. Ariane Slinger: "My mother does not know all the details anymore. It is not completely clear. Perhaps my grandfather sold Trio, where the two brothers worked with their father, to BP at a later stage, when he became director".