ARTONE and CBS Records


A recent addition in the sixties was CBS Records, part of the profitable Columbia Broadcasting System in New York. In his book about the record industry Clive Davis wrote the following in 1974: "Corporate CBS had been encouraging its divisions to expand and diversify because the board felt that television-growth, being government-licensed, might be limited".
In other words: the profit that CBS television made had to be invested in other activities. As a result CBS took over several companies: Fender (guitars), Creative Playthings (toys), Rogers (drums) and Leslie (speakers). The record department, Columbia Records, was told to expand. There was enough money to realise this. It was decided to establish the approach in Europe independently from that moment onwards. Because the name of Columbia was owned by EMI, the company worked as CBS International. [Wikipedia – CBS Records International]
Vis and Wapperom was present for Artone in Paris at the launch of CBS Records
On 16 March 1962 Billboard dedicated a section to the establishment of CBS International, that was led by Goddard Lieberson. All representatives of CBS International placed a full-page advertisement in the professional magazine, so Artone did too. The advertisement stated: "The licensee agreement reached with CBS Records marks an important milestone in the history of the Slinger Brothers organisation, a major force in the Benelux record industry. The Slinger Brothers have founded a completely separate organisation to distribute CBS Records throughout the Benelux countries, Belgium, Holland and Luxembourg.
In addition to a large roster of local artists under contract, the overall strength of the Slinger sales and promotion forces, backed by excellent manufacturing facilities, gives the organisation a tremendous grip on the record market and the means of realising maximum sales effectiveness. Everything indicates that CBS Records will be established as a leader in Benelux in 1963".   John Vis and Hemmy J.S. Wapperom attended the big launch instead of the Slinger brothers. Top artists such as Duke Ellington, Percy Faith and Ray Connif flew to Paris to brighten up the festivities.
CBS indeed obtained their own office space in the Netherlands: at the Jansstraat in Haarlem. Hemmy Wapperom, previously correspondent at Billboard [among others], became leader of this process.
Advertisement Artone in Billboard (16 March 1863)
CBS partly takes over Artone
The expansion of the American mother company did not end with the launch of CBS International. Companies that were allowed to distribute the CBS label were devoured. The Americans preferred to buy a national operating record company with an independent factory and a good distribution network.
In 1964 it was England's turn. On 3 October an article was written in Billboard with the header: "It's official: CBS-Oriole deal". From 1 January 1965, CBS International had its own subsidiary in Great Britain. "Morris Levy, who will run the company in close association with CBS European operations vice-president Peter De Rougemont, said: 'I am personally privileged to become a member of the CBS family. With the added impetus of having CBS behind us, Oriole will have no difficulty in expanding rapidly', said editor André de Vekey in Billboard.
In 1966 Artone started to work partly under the wing of CBS. Ariane Slinger: "The cooperation with CBS Records went that well, that CBS bought a 50% stake in Artone in 1966. The record factory in the Netherlands became their biggest production point. That way CBS could get a foot in the door in Europe and the existing distribution network of Artone could be used". [Recordplanet.nl – World of Artone, the Story of a Dutch Record Company]
Casper Slinger, as Ariane knew, was very positive about the agreement that he and Willem had established at that time. It was really a win-win situation. Artone and CBS were subsequently connected due to the taking over of shares. "Artone had become part of a successful family, an international company. The future of the company was assured". What Ariane told me, made me think of the words of Morris Levy, who switched as director from Oriole to CBS in London.
By selling Artone shares to CBS Casper Slinger had obtained money that he seemed to need. Gijs Leijenaar told me during the interview that Casper's house was much simpler that the house of his brother Willem. Casper was getting a divorce from his first wife. He lived in a simple apartment with Adriana van Mierlo. Their daughter Ariane was born on 26 July 1963 in the French town of Menton.
Due to the agreement with CBS the financially difficult situation that had lasted for eight years for Casper, Adriana and daughters Ariane and (later) Alexandra ended. "My father moved then (from Menton and Zandvoort) to castle Klein-Bentveld with my mother and me, it really was a glorious period!" In the castle the family even had their own staff, which she could still remember well in 2016. The transition must have been big for the young girl and her mother. Her little sister Alexandra was born in that period.
Some of the CBS-hits in the sixties were: 'Battle hymn of the republic' (Andy Williams), 'Silence is golden' (Tremeloes), 'The Boxer' (Simon & Garfunkel), 'Like a rolling stone' (Bob Dylan), 'Mr. Tambourine Man' (Byrds), 'A boy named Sue' (Johnny Cash), 'San Francisco' (Scott McKenzie), 'Second hand rose' (Barbra Streisand) and 'Atlantis' (Donovan).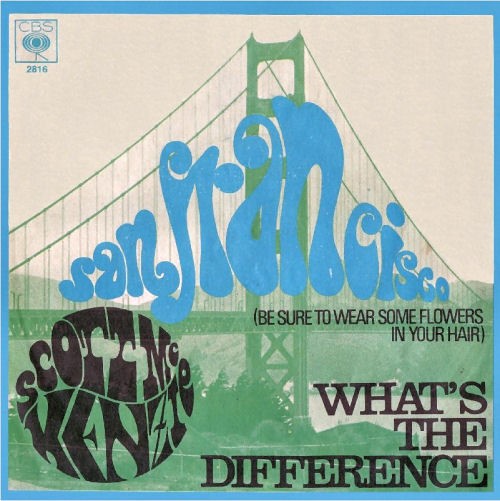 A big hit in 1967
Artone completely owned by CBS
At CBS they were happy with the Artone's approach in the Benelux . According to Ariane they were so satisfied, that the international Group was on the verge of appointing Casper Dingeman Slinger to a significant role.  Casper had invested a large part of the money that he received for half of his shares in Artone again. "In 1969 CBS wanted to appoint him as their general manager for Europe". However, that did not happen in the end. "My father experienced severe health problems. He needed to have major brain surgery".
Nothing came of a new career at CBS International. CBS subsequently offered to take over the other half of his shares. "Because he was ill, my father eventually accepted the deal. He moved to the South of France immediately, because the climate was milder there for him (for his headaches after the operations)".
According to his daughter Ariane, Casper Slinger regretted that decision for many years. He had never wanted to give up the company. However, he was under terrible strain due to this illness. "He was very ill for two, three years", his daughter Ariane explained. Apparently, the saying was applicable here too: out of sight, out of mind. "My father blamed everyone severely for this. To forget his loss he turned his back on the record industry and his acquaintances. He did not want to talk about it with anyone, not with us either".
Artone was no longer Artone. This was probably ultimately the intention of CBS, that increasingly began to work under its own name and with its own logo. Willem Slinger was persuaded to sell his shares to the American company too. Perhaps with the purpose to convince him, the elder brother of Casper received a much higher sum for his shares in the Dutch record company.
"In the early seventies", Ariane Slinger stated, "Artone ceased to exist. John J. Vis took over the general management after my father left".
Artone, with its complete factory, the national and international distribution network and position in the market, was the ideal acquisition for the American CBS in the early seventies. With the departure of the Slinger brothers, the name Artone disappeared from the annals of the Dutch music business.